The History Of FAW
---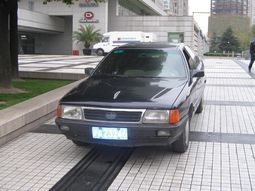 First Automotive Group Corporation (simplified Chinese: 中国第一汽车集团; traditional Chinese: 中國第一汽車集團; pinyin: Zhōngguó Dìyī Qìchē Jítuán) is China's first automobile manufacturer. FAW is one of the "Big Five" Chinese automobile manufacturers along with Dongfeng Motor Corporation, Shanghai Automotive Industry Corporation, Chang'an Motors, and Chery Automobile. The company was established in 1953 with ranges such as Jiaxing mini MPVs, Xiali saloon cars and Hongqi luxury cars.
FAW Group started out in 1953 as First Automobile Works with assistance from ZIL and finished in 1956. During its first 30 years, its major product was Jiefang CA-10 medium truck, the first mass-produced automobile in China based on ZIS-150. A couple of years after the CA-10, they introduced the CA-30 6x6 army truck based on ZIL-157. The next generation of Jiefang truck, CA-141 rolled out in 1988. In 1991, FAW formed joint venture with Volkswagen and began to focus on car manufacture. Since then, it has formed joint ventures with other automobile giants such as Toyota and Mazda. In the same time, FAW maintained its own car brand Hongqi since 1958. Through purchasing and expanding, it has become one of top three automobile manufacturers in China. (The other two are Shanghai Automotive Industry Corporation and Dongfeng Motor Corporation) By 2004, its car sales had passed 1 million units.
Symbol
The symbol represents the combination of Chinese word "一汽"(meaning "China FAW Group Corporation") which was transformed visually, Chinese character "一" means "first" and "汽" means "automobile", depicting the visionary of a hawk spreading its wings.
Meaning
FAW flies throughout the vast skies of the world, spreading its wings and soaring high and far into the bright blue sky.
In 1988, Chrysler sold much of the machining equipment, as well as a license to the design, of their K-car 2.2L straight-4 engine to FAW.
FAW Hongqi ("Red Flag" in Chinese) is a luxury unit of FAW. It began in 1958, at first building Soviet-style limousines[citation needed] but later contracting with Audi and Lincoln for designs. FAW is recently manufacturing the Hongqi HQ3 (based on the Toyota Crown). At the 2005 Shanghai Auto Show, the company unveiled the Hongqi HQD concept car, with designs based on the Hongqi CA770 limousine. In the 2008 Beijing Auto Show, FAW also premiered the Hongqi HQE concept car and also a Hongqi SUV concept car.
While FAW Mazda is a joint venture with Mazda to build Mazda cars in China, and sold under the Mazda brand, FAW Haima car are badge engineered from Mazda cars and sold under the Haima brand. The FAW Haima Motor Co is a subsidiary of FAW, based on Hainan Island in South China. "Haima" is a blend of "HAInan" and "MAzda." The Hainan Auto Works firm began as a joint venture with Mazda in the early 1990s, and produced Mazda-based vehicles such as the Mazda 323-based Hainan CA7130. Hainan Auto Works was taken over by FAW in the late 1990s. FAW had another joint venture with Mazda, which currently produces the Mazda6 in Jilin Province. Haima has since been relaunched as a separate brand similar to Xiali and Hongqi, with its own range of internally-designed models. The first will be the Haima Family II, a 4 door sedan based on the Mazda Protege.
FAW recently manufacture the FAW Besturn (based on the Mazda 6), also known as FAW Benteng. The compact car serie Besturn B50 are commercialised in China now.
FAW operates many joint venture manufacturing concerns in China. Sihuan FAW Toyota Motor (Changchun City, Jilin Province) produces the Toyota Prius for the Chinese market. FAW-Volkswagen and Audi produce in Changchun City the FAW-VW Jetta, Bora, Sagitar, Audi A4 and Audi A6L (a long wheelbase version of the A6). FAW also has a joint venture in Russia with Hebei Zhongxing at Altaysky Kray to produce a local version of the Zhongxing Admiral. Tianjin Xiali produces the Miles ZX40, an electric version of the Daihatsu Move which became the first Chinese-built vehicle sold in the United States when it was offered in Mid 2006 by Miles Automotive Group.
List of joint-ventures
FAW Jiefang Automobile Company
FAWER Automobile Parts Company
FAW Car Company
FAW Haima Motor Co
Changchun FAW Sihuan Automobile Company
FAW-Volkswagen Automobile Company
Tianjin FAW Xiali Automobile Company
Tianjin FAW Toyota Motor Company
On November 22nd, 2007, FAW and Grupo Salinas signed an agreement to build a plant in Michoacan, Mexico, which will be ready on 2010. When the plant opens FAW will become the second Chinese automaker to operate a plant outside of China and the first to open one in the important NAFTA region. Together with the plant deal Grupo Salinas said that it will import the cars and sell them in their Elektra stores throughout the country, which they started doing in 2008. (Though they will not be the first Chinese company selling vehicles in Mexico as several companies already sell off road vehicles imported from China.) In Mexico City the cars are sold through specialized Elektra stores while elsewhere in the country the cars are sold through standalone dealers. Five models range in price from approximately US$7000 to US$12,000.

From Wikipedia, the free encyclopedia
More About FAW
Used Cars For Sale | Car Specifications | Automotive Troubleshooting | New & Used Car Reviews | Privacy Policy
History FAW - Pics Photos Wallpapers Images