id:a1239090609b2600907
The Acura TL is powered by a 3.2-liter, 225-hp VTEC V-6 with a 4-speed automatic transmission. ABS is standard.
2005 Acura TL
Photo #1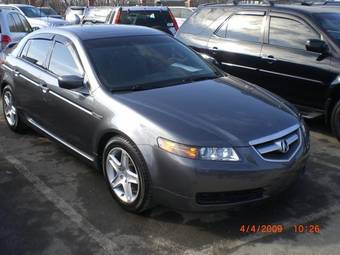 Photo Information (Width: 340px, Height: 255px, Size: 15Kb)
More photos of
Acura TL
TL Troubleshooting
Transmission
1999, transmission hard to change gears moves
very slow.Vehicle takes of very slow. Even
thoug...
| | |
| --- | --- |
| Engine size - Displacement - Engine capacity: | 3200 cm3 |
| Transmission Gearbox - Number of speeds: | Automatic |
| Fuel Type: | Gasoline |
| Drive wheels - Traction - Drivetrain: | FF |
| Price (out of date): | $28640 |
2005 Acura TL specs, Engine size 3200cm3, Fuel type Gasoline, Drive wheels FF, Transmission Gearbox Automatic
| | |
| --- | --- |
| | The Acura TL is a mid-size luxury car from Honda's Acura brand. It was introduced in 1996 to supplant the Acura Vigor and was rebadged for the Japanese-market from 1996 to 2000 as the Honda Inspire and from 1996 to 2004 as the Honda Saber. The TL is Acura's best-selling model, and it has ranked as the second best-selling luxury sedan in the United States behind the BMW 3 Series. Four generations of the Acura TL have been produced to date, with the latest fourth generation TL premiering in 2008 as a 2009 model. |
The TL debuted as 1996 model, first with the 1996 2.5 TL available with the 2.5L 176hp (131kW) SOHC 20-valve 5-cylinder engine from the Vigor. The 3.2 TL used the 3.2L 200hp (149kW) SOHC 24v V6 from the second-generation Acura Legend. The 2.5 TL was positioned as the sporty model and the 3.2 focused more upon a luxurious ride. The very first 1996 Acura TL rolled off the assembly line on March 28, 1995. Sales of the 2.5 TL began in spring 1995, but the 3.2 TL was delayed until fall because of a U.S.-Japan trade dispute.
The first generation Acura TL had standard features including dual airbags, antilock brakes, automatic climate control, a cassette/ CD player sound system, and power windows and locks. Leather was standard on the more upscale 3.2 TL, while the 2.5 TL featured a firmer suspension setup.
1997
In 1997, Acura added a standard power moonroof to all TL models. Additionally, all Acura TLs received an added variable-speed intermittent wiper setting. The 3.2 TL has 205/ 65/ 15 Tires, a V6 motor, rimless windows and a Bose music system. The sport-targeted, 5-cylinder 2.5 TL was further fitted with new alloy wheels.



» Read More About Acura TL