id:a1329971411b6780367
2012 BMW 1-SERIES
Photo #1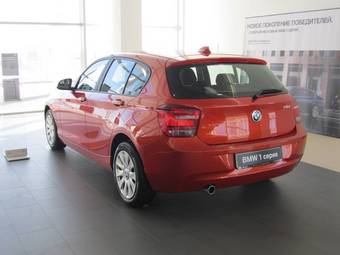 Photo Information (Width: 340px, Height: 255px, Size: 11Kb)
| | |
| --- | --- |
| Transmission Gearbox - Number of speeds: | Automatic |
| Fuel Type: | Gasoline |
| Drive wheels - Traction - Drivetrain: | FR or RR |
| Price (out of date): | $39333 |
2012 BMW 1-SERIES specs, Fuel type Gasoline, Drive wheels FR or RR, Transmission Gearbox Automatic
| | |
| --- | --- |
| | The BMW 1 Series (platforms E81/ E87 and E82/ E88) is a small-luxury car / small family car produced by the German automaker BMW since 2004. The 1 Series is the only vehicle in its class featuring rear-wheel drive and a longitudinally-mounted engine. |
It replaced the BMW 3 Series Compact range and is currently the smallest and most affordable vehicle (depending on the engine model) in the BMW range. Unlike its predecessor, the new vehicle is built on its own platform; however, it shares many components with the E90 3 Series. Shared parts include MacPherson struts in the front of the car and a trapezoidal-link rear axle. BMW has stated that it shares over 60% of components with the current E90 BMW 3 Series.
The 1 Series was first offered to the market in 2004 as a five-door hatchback.
The 1 Series is built in Regensburg and Leipzig, Germany, with the 4 cylinder petrol/ gas engines coming from the Hams Hall plant in Coleshill north east of Birmingham, England.
During its first full year on the market in 2005, it became one of BMW's most successful products. 149,493 units were sold, leading to a third-place finish in total numbers sold by model. Only the 3 and 5 Series sold better.
2007 mid-generation refresh
BMW upgraded the 1 Series for 2007 and introduced a 3-door sports hatch variant (code named E81). Changes to the model were minor headlight and taillight revisions, new front/ rear bumpers and minor revisions to the interior. The dashboard has been updated, and a recommended gear indicator is now present on models with manual transmissions.



» Read More About BMW 1-SERIES