id:a1243032056b2713092
The CTS is powered by a 3.2L V6 engine with 220 horsepower and 218 lb-ft of torque. Available transmissions include a five-speed manual Getrag transmission or an optional five-speed automatic transmission with sport and winter modes.
2005 Cadillac CTS
Photo #1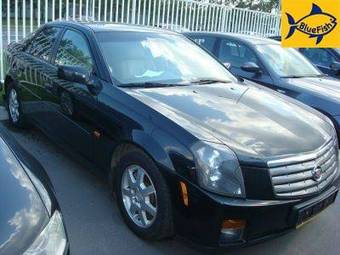 Photo Information (Width: 340px, Height: 255px, Size: 17Kb)
More photos of
Cadillac CTS
CTS Troubleshooting
Engine performance
2007, I thought I could make it to gas
station,(ran out).My first reaction was to try
and see ...
| | |
| --- | --- |
| Engine size - Displacement - Engine capacity: | 3500 cm3 |
| Transmission Gearbox - Number of speeds: | Automatic |
| Price (out of date): | $23077 |
2005 Cadillac CTS specs, Engine size 3.5l., Transmission Gearbox Automatic
| | |
| --- | --- |
| | The CTS is a mid size luxury car made by General Motors for the Cadillac brand.It was introduced as the replacement for the Cadillac Catera in 2003. Designed by Wayne Cherry, the CTS uses edgy styling that Cadillac calls "Art and Science", which was first seen on the Evoq concept car. The CTS is credited with rejuvenating the Cadillac brand, and possibly saving it from extinction, as Cadillac sales fell in favor of imported luxury brands such as Lexus and Mercedes-Benz. Cadillac began trying to capture a younger buyer base in the 1990s, with the Catera and Allante, and finally succeeded with the CTS. |
The 2008 CTS was unveiled at the North American International Auto Show. It borrows styling cues from the Cadillac Sixteen concept car, and went on sale in late August, 2007.

Introduced in 2002 for the 2003 model year, the CTS rode on the new rear-wheel drive GM Sigma platform. It was a return to rear-wheel drive, as well as being the first Cadillac with a manual transmission since the 1988 Cimarron. It replaced the mid-size rear-wheel drive Catera. The CTS name likely came from the initials of Catera Touring Sedan[citation needed]. The CTS was nominated for the North American Car of the Year award for 2002. The CTS is built at GM's Lansing Grand River plant in Lansing, Michigan. The CTS was also assembled in China in 2006, but assembly was discontinued shortly thereafter due to poor sales in that market. The CTS in China is now an exported model once again.

Originally powered by a 3.2L LA3 V6 producing 220hp (164kW), the CTS received a 3.6L DOHC V6 with variable valve timing in 2004, producing 255hp (190kW) and 252lb·ft (342N·m) of torque. The 3.2L engine went out of production in 2005, when a new 2.8L version of the DOHC V6 debuted in an entry-level version of the CTS. In Europe, the 2.8L replaces the previous entry level 2.6L.



» Read More About Cadillac CTS