The Seville is powered by a 4.6-liter 275-horsepower Northstar V-8 mated with a 4-speed automatic. There is option of the same V-8 with 300 hp. ABS is standard.
1993 Cadillac Seville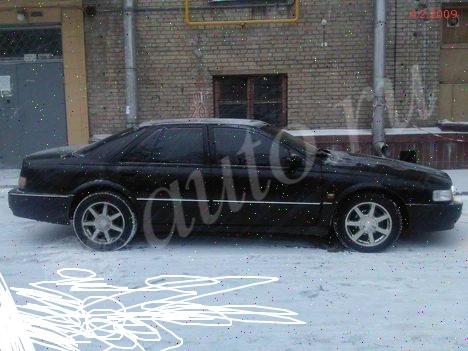 Photo Information (Width: 468px, Height: 351px, Size: 32Kb)
More photos of
Cadillac Seville
Seville Troubleshooting
Will not start
1996, Ok, When you turn the key to start it, It
will start, Run for like 2-3 seconds, then die...
| | |
| --- | --- |
| Transmission Gearbox - Number of speeds: | Automatic |
| Fuel Type: | Gasoline |
| Drive wheels - Traction - Drivetrain: | FF |
| Price (out of date): | $4024 |
1993 Cadillac Seville specs, Fuel type Gasoline, Drive wheels FF, Transmission Gearbox Automatic
| | |
| --- | --- |
| | The Cadillac Seville is a luxury car that was manufactured by the Cadillac division of American automaker General Motors as a limited production specialty model in the 1950s and 60s. It was traditionally second in the Cadillac lineup after the top of the line Eldorado, and more focused on technology than the sales-leader Deville. Reintroduced as a regular production vehicle from 1975 to 2004, the Seville was a smaller format top of the line Cadillac. |
The first use of the Seville name was on a hardtop version of the 1956 Cadillac Eldorado convertible. Four Eldorado Seville 4-door hardtops were built in 1957, but it is the outlandish tailfins found on the 1959 model that are most remembered. 1960 was the last year for the Eldorado Seville.

Various names were considered for what became the next generation Seville. Resurrection of the LaSalle nameplate was seriously considered, but it was decided that given that LaSalle had been used for entry-level sub-Cadillacs in the past; it would create confusion in the marketplace among those who recollected the context of the names previous use.

The Seville introduced in 1975, was Cadillac's answer to the rising popularity of luxury imports in the US from Europe, such as Mercedes-Benz and BMW. Historically, these imported luxury cars had been cheaper, less luxurious and significantly smaller than Cadillacs. Over time they had evolved, becoming quite luxurious and even more expensive than the much larger Cadillacs. As the market share of these imports continued to climb, it became obvious that the traditional American automotive paradigm of "bigger equals better" was no longer in full effect in the marketplace. The Seville became the smallest and most expensive model in the lineup, turning Cadillac's traditional marketing and pricing strategy upside down.



» Read More About Cadillac Seville