id:a1243419609b2724494
2006 Chery QQ
Photo #5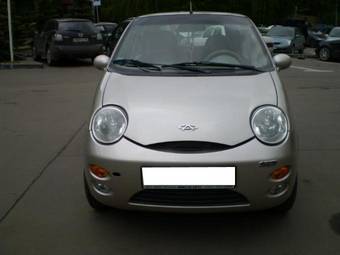 Photo Information (Width: 340px, Height: 255px, Size: 9Kb)
More photos of
Chery QQ
QQ Troubleshooting
Trouble shoot
2006, sir:for my car started. but if i put new
starting plug that plug make black & damage...
AMT gearbox
2010, I have a chery qq sweet AMT. 2010 . It
occasionally jumps into neutral when in
automatic...
Won't start at cold. battery, fuel pump. a...
2009, won't start at cold. battery, fuel
pump. and igination system all are ok. but will
...
| | |
| --- | --- |
| Engine size - Displacement - Engine capacity: | 800 cm3 |
| Transmission Gearbox - Number of speeds: | Manual |
| Fuel Type: | Gasoline |
| Drive wheels - Traction - Drivetrain: | FF |
| Price (out of date): | $5457 |
2006 Chery QQ specs, Engine size 0.8l., Fuel type Gasoline, Drive wheels FF, Transmission Gearbox Manual
The Chery QQ (codename S11) is a city car produced by the Chinese manufacturer Chery Automobile in 2003. In 2006, the car was renamed the Chery QQ3 in China, when Chery launched their new supermini, the Chery QQ6.

The Chery QQ is available with the following two gasoline-powered engines (both EURO III compliant):
Used Chery QQ
0.8L SQR372 I3 DOHC 12v — 38kW (51hp) at 6000rpm, 70N·m (52lb·ft) at 3500rpm
1.1L SQR472F I4 DOHC 16v — 50kW (67hp) at 6000rpm, 90N·m (66lb·ft) at 3500rpm
The QQ remained at the centre of an industrial copyright and intellectual rights controversy, as General Motors claimed the QQ was highly similar to the Chevrolet Spark/ Daewoo Matiz. GM executives demonstrated the extent of the design duplication, noting for example that the doors of the Chery QQ and the doors of the Chevrolet Spark are interchangeable without modification.
GM China Group indicated the two vehicles "shared remarkably identical body structure, exterior design, interior design and key components."
MotorAuthority.com and Car and Driver called the QQ a "carbon copy."
The International Herald Tribune, in a 2005 article, referred to the QQ as a clone.
Looking at this controversy on a global stage, the Detroit News reported that "the dispute reflects the confusion, risks and ambitions in China's new auto industry, where global carmakers are battling pugnacious upstarts for a piece of what may become the world's largest auto market."



» Read More About Chery QQ