id:a1236323661b2474038
2006 Honda Elysion
Photo #2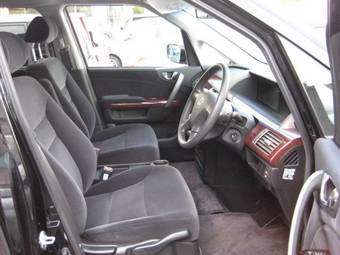 Photo Information (Width: 340px, Height: 255px, Size: 16Kb)
More photos of
Honda Elysion
Elysion Troubleshooting
Can't see dash controls at night
2004, looks like the dash light has blown,
can't see any of the controls at night,
fan, r...
Car problem
2006, GPS and language in japanis. The manual
book is the same language. It' s possible...
DVD show Ejact
2004, I bought that a few week ,but the DVD
doesn't work when I put in the DVD /CD the
fr...
| | |
| --- | --- |
| Engine size - Displacement - Engine capacity: | 2400 cm3 |
| Transmission Gearbox - Number of speeds: | Automatic |
| Fuel Type: | Gasoline |
| Drive wheels - Traction - Drivetrain: | FF |
| Price (out of date): | $26500 |
2006 Honda Elysion specs, Engine size 2.4, Fuel type Gasoline, Drive wheels FF, Transmission Gearbox Automatic
| | |
| --- | --- |
| | The Honda Elysion (Japanese: ホンダ・エリシオン) is a minivan capable of seating up to 8 people that is sold only in Japan as a competitor to the Toyota Alphard and the Nissan Elgrand. It is related to the USA-spec Honda Odyssey but is not the same vehicle. One of the major differences from the previous generation JDM Honda Odyssey was that the rear doors were exchanged to sliding doors typically used on minivans, whereas the JDM Odyssey used conventional side doors, found on MPVs. The USA-spec Honda Odyssey, known in Japan as the Honda LaGreat, was too large for Japan, so the Elysion took many styling cues from the LaGreat and used them on a smaller vehicle. |
Honda was inspired to name the vehicle the "Elysion" from the classical Greek word Elysium, or heaven.


The Elysion appeared at the Tokyo Motor Show, on October 2003 as the "ASM", and was released for sale on 13 May 2004. A mild body restyle was introduced 29 September 2005, introducing an "Aero" and "VG Premium" trim level. 13 January 2006 saw the introduction of the "G Aero HDD Navi" and "VG HDD Navi Aero" edition. Another styling change was introduced 21 December 2006, including an interior update.

The Elysion was offered with either the 2.4 L DOHC direct injection K24A with i-VTEC producing 160PS (117.7kW; 157.8bhp) or the 3.0 L SOHC J30A V6 i-VTEC producing 250PS (183.9kW; 246.6bhp). The V6 was also available with "VCM" or Variable Cylinder Management. The upper trim level "Prestige" model was available with the J35A V6 used in the Honda Legend, producing 300PS (220.6kW; 295.9bhp) and available AWD. Vehicles equipped with AWD had the same Legend engine, but the power was somewhat reduced to 279PS (205.2kW; 275.2bhp). This was more power than available in the Toyota Estima, which was quoted to be 280PS (205.9kW; 276.2bhp).



» Read More About Honda Elysion