id:a1187931627b1345799
Honda S2000 Specs The S2000 is available with a 2.0-liter, 240 hp inline-4 paired with a 6 speed manual transmission. ABS is one of many standard features.
2005 Honda S2000
Photo #2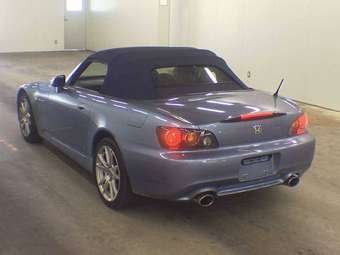 Photo Information (Width: 340px, Height: 255px, Size: 8Kb)
2005 Honda S2000 specs: mpg, towing capacity, size, photos
The Honda S2000 is a roadster manufactured by the Japanese automaker Honda Motor Company. It was launched in April 1999 and was created to celebrate the company's 50th anniversary.

The car was first shown as a concept at the Tokyo Motor Show in 1995, following which it was launched in world markets in 1999. The S2000 is named for its engine displacement of 2L, carrying on in the tradition of the S500, S600, and S800 roadsters of the 1960s. Several revisions were made throughout the car's lifetime, including changes to the engine, gearbox, suspension and interior and exterior. Officially two model designations exist: the initial launch model was called the AP1, while the AP2 designation was given to the models produced from 2004 onwards which contained substantial changes to the drivetrain and suspension. Production of the S2000 will cease in June 2009.
Introduced at the 1995 Tokyo Motor Show, the Honda SSM concept car was the design study for the production S2000. The SSM (which stood for "Sports Study Model") was a rear wheel drive roadster powered by a 2.0L (122cuin) inline 4 cylinder engine. It featured a push-button starter and central division between the driver and passenger which Honda claimed to improve the vehicle's rigidity. All of the body panels were aluminium and the car had a 50/ 50 weight distribution.
The SSM would appear unchanged in many automotive shows for several years afterwards, hinting at the possibility of a production version. Honda later announced the production version of the SSM. Carrying on the tradition of the company's 1960s S500, S600, and S800 roadsters, the new vehicle was called the S2000.
AP1
The S2000 was introduced in 1999 for the 2000 model year and was given the chassis designation of AP1. It features a front-mid-engine, rear wheel drive layout with power being delivered by a 1,997cc (122cuin) F20C inline 4 cylinder DOHC-VTEC engine producing 240hp (179kW) at 8,300rpm and 153ft·lbf (207N·m) at 7,500rpm, though European versions were rated slightly lower at 237hp (177kW) and the Japanese models were quoted with 247hp (184kW) at 8,600rpm due to a small difference in engine compression ratio.[citation needed] The engine is mated to a six-speed manual transmission and Torsen limited slip differential. In part because of its high-revving nature for a car engine, the S2000 achieves the highest specific power per unit volume of any mass-produced naturally-aspirated automobile piston engine, producing 123.5hp (92kW) per liter.[citation needed]



» Read More About Honda S2000