id:a1339990203b7821035
Mitsubishi Specs The 2004 Outlander retutns this year with very little changes and is available in the LS and XLS models in either front-wheel or all-wheel drive. All models come equipped with a 2.4L engine mated to a four-speed automatic Sportronic transmission.
2011 Mitsubishi Outlander
Photo #1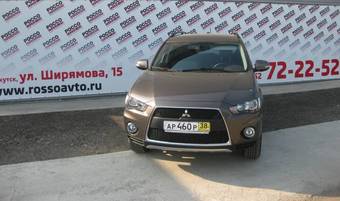 Photo Information (Width: 340px, Height: 201px, Size: 13Kb)
More photos of
Mitsubishi Outlander
Outlander Troubleshooting
Bluetooth
2011, My car wont connect to my bluetooth for
my phone nor will it play songs from my phone
on...
| | |
| --- | --- |
| Engine size - Displacement - Engine capacity: | 2000 cm3 |
| Transmission Gearbox - Number of speeds: | CVT |
| Fuel Type: | Gasoline |
| Price (out of date): | $35298 |
2011 Mitsubishi Outlander specs, Engine size 2000cm3, Fuel type Gasoline, Transmission Gearbox CVT
| | |
| --- | --- |
| | The Mitsubishi Outlander is a compact crossover SUV manufactured by Japanese automaker Mitsubishi Motors. It was originally known as the Mitsubishi Airtrek when it was introduced in Japan in 2001, and was based on the Mitsubishi ASX concept vehicle exhibited at the 2001 North American International Auto Show. The ASX (Active Sports Crossover) represented Mitsubishi's approach to the industry wide XUV trend for retaining the all-season and off-road abilities offered by a high ground clearance and four-wheel drive, while still offering car-like levels of emissions, economy and size. |
Used Mitsubishi Outlander
The original Airtrek name was chosen to "describe the vehicle's ability to transport its passengers on adventure-packed journeys in a 'free-as-a-bird' manner", and was "coined from Air and Trek to express the idea of footloose, adventure-filled motoring pleasure." The Outlander nameplate which replaced it evoked a "feeling of journeying to distant, unexplored lands in search of adventure."

The second generation of the vehicle was introduced in 2005 and all markets including Japan adopted the Outlander name. It was built on the company's GS platform, and used various engines developed by Mitsubishi, Volkswagen and PSA Peugeot Citroën. PSA's Citroën C-Crosser and Peugeot 4007, which are manufactured by Mitsubishi in Japan, are badge engineered versions of the Outlander.

The Airtrek was first introduced to the Japanese market on June 20, 2001, priced from ¥1.7–2.3million. It offered a choice of either a 126PS (93kW) 4G63 2.0L or a 139PS (102kW) 4G64 2.4L GDI, mated to a standard INVECS-II 4-speed semi-automatic transmission. Both front- and four-wheel drive were available. The four-wheel drive version uses normal ("open") differentials for the front and rear axles, with a viscous coupling unit for the center differential. A high performance model, using a detuned version of the Mitsubishi Lancer Evolution's 4G63T 2.0L turbo, was introduced in 2002. The engine produced 240PS (180kW) and 343N·m (253lb·ft), although in export markets the Outlander version's output was reduced to 202PS (149kW) and 303N·m (223lb·ft).



» Read More About Mitsubishi Outlander