id:a1209926753b1699055
1995 OPEL Frontera
Photo #1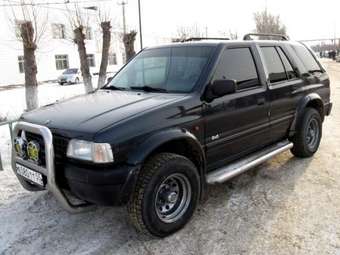 Photo Information (Width: 340px, Height: 255px, Size: 14Kb)
More photos of
OPEL Frontera
Frontera Troubleshooting
CLE D'ALLUMAGE OPEL FRONTERA
1999, La puce à l'interieur de la
clé contact est perdue et l'antenne
...
3,2 l, Rodeo
2003, The heating system inside is very weak
i.e. does not blow warm air but cold. Is there
an...
Brain Box
1996, The Battery was low, and when the Local
technician tries to replace, he made a mistake
b...
1995 OPEL Frontera specs: mpg, towing capacity, size, photos
| | |
| --- | --- |
| | The Isuzu MU Wizard was a compact SUV made by Japan-based manufacturer Isuzu. The MU Wizard was introduced in 1990 as a 1991 model, and it ceased production in 2004. Isuzu manufactured several variations to the Wizard for sale in other countries. The United States has had two versions: the Isuzu Rodeo and (until 2002) the rebadged Honda Passport. Opel/ Vauxhall and Holden each also sold rebadged versions of the vehicle. It was also sold as the Chevrolet Frontera in Egypt and the Isuzu Frontier in South America |
A version of the Wizard called the Isuzu Rodeo was manufactured at Subaru-Isuzu Automotive, Inc. (now, Subaru of Indiana Automotive, Inc.) in Lafayette, Indiana. Isuzu was rumored to prefer the "ro-DEE-o" pronunciation over "ro-DAY-o". The vehicle was still considered an import, as 75 percent of its parts were made overseas.
First generation
1991–1992
The Rodeo made its debut in 1991. The mid-size SUV was available with either a 2.6L 4-cylinder engine or a 120hp (90kW), 3.1L V6 made by General Motors. An automatic transmission was available for the latter.

The vehicle was available with four-wheel drive with manually locking hubs on the S version and automatically locking hubs on the XS and top-of-the-line LS. Rear anti-lock brakes were standard feature, but not an option for all four wheels.

All models had a rear seat bottom which folded forward and rear seat back which folded down; this vastly extending the 35 cubic foot (1.0 m³) cargo area. The vehicle's lug wrench was stored under the seat bottom, concealed by a carpeted Velcro flap. The jack was located behind a plastic panel in the left-rear of the cargo area along with the rear-windshield-washer fluid reservoir if so-equipped.



» Read More About OPEL Frontera