id:431868
The Breeze is offered as a 4 door sedan with a 2.0-liter/132-hp 4 cylinder or a 2.4-liter/150-hp 4 cylinder engine. Choose between a 5-speed manual or a 4-speed automatic. ABS is optional.
1999 Plymouth Breeze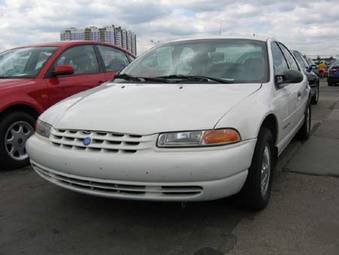 Photo Information (Width: 339px, Height: 255px, Size: 11Kb)
More photos of
Plymouth Breeze
Breeze Troubleshooting
Windows
1998, just want to find out if the windows in
my 1998 expresso came semi-dark or someone
tinte...
E.C.U
1997, Problem is the E.C.U has kind of blown
and now I need a new one to replace...
Photo Information (Width: 340px, Height: 255px, Size: 12Kb)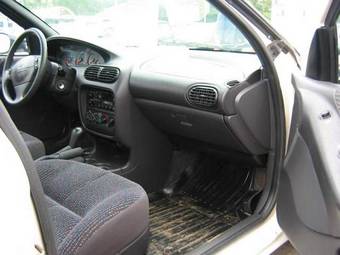 Photo Information (Width: 340px, Height: 255px, Size: 13Kb)
| | |
| --- | --- |
| Engine size - Displacement - Engine capacity: | 2400 cm3 |
| Transmission Gearbox - Number of speeds: | Manual |
| Fuel Type: | Gasoline |
| Drive wheels - Traction - Drivetrain: | FF |
| Price (out of date): | $11200 |
1999 Plymouth Breeze specs, Engine size 2400cm3, Fuel type Gasoline, Drive wheels FF, Transmission Gearbox Manual
| | |
| --- | --- |
| | The Plymouth Breeze was a mid-sized 4-door sedan that was introduced in 1996, as a companion to the Chrysler Cirrus and the Dodge Stratus which were released in late 1995. It replaced the successful, yet outdated Acclaim. Based on the Chrysler JA Platform these three cars were collectively known as the Cloud Cars. When it was introduced the Breeze came in only one trim level. It was on Car and Driver magazine's Ten Best list for 1997. |
The Breeze was discontinued early in the 2000 model year, as part of the Chrysler Corporation's phaseout of the Plymouth brand; it was Plymouth's last mid-size model. Although the Breeze offered a softer tuned suspension, as well as special order packages (such as the Expresso) it was considered to be the low-end model of Chrysler's Cloud Cars, and a V6 engine was not available in the line-up unlike the Chrysler Cirrus or Dodge Stratus.
The Plymouth Breeze used the cab forward design, originally introduced by the full-size LH cars (Chrysler Concorde, Dodge Intrepid, and Eagle Vision) in 1993.
Though the Breeze was similar in appearance to the Cirrus and Stratus, there were two distinct features that made it stand out: ridged taillights which incorporated the reverse and turn signals into it instead of a separate strip and an eggcrate grille (a Plymouth staple of that era).
Specifications
Track (front and rear): 60.2in (1529mm)
Curb weight: 3,181lb (1,443kg)
Towing capacity: 1,000lb (454kg)
Torque: 165lb·ft (224N·m)- 167lb·ft (226N·m)


» Read More About Plymouth Breeze