id:2737026
1998 Honda Domani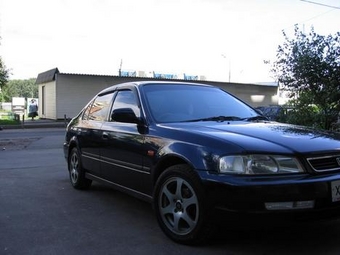 Photo Information (Width: 340px, Height: 255px, Size: 52Kb)
More photos of
Honda Domani
Domani Troubleshooting
Front doors
1994, My windows are malfunctioning. I require
doors because the winder and rubber guiding the...
Gearbox transmission
1997, Previously oil leakage between gearbox
and engine had to be fixed by removing the
gearbo...
Radio cassette does not work
1996, I have a Sony radio and Cd player in the
car and they do not work. Have tried all the f...
1998 Honda Domani specs
The Honda Domani (Japanese: ホンダ・ドマーニ) is a car made by Honda and marketed in east Asia, including Japan. It was introduced in November 1992, replacing the Concerto in Honda's lineup.

"Domani" is Italian for "tomorrow".
Used Honda Domani
It is heavily based on the early 1990s version of the Honda Civic (chassis code EG) and production ended in September 2004.

The Domani saloon had 1.5 and 1.8 engines at first (from 1992 to 1993), then a 1.6i petrol engine from 1993 onwards. Trim levels were DX, LX and EX.

On the domestic market the car was offered as a 4-door sedan. In Europe, 5-door hatchback and wagon variants were available. They were sold as part of the Honda Civic range alongside the existing Civics from 1995 to 2001.

The Honda Domani has a very close relative in the Rover 45 (previously the Rover 400), with which it shared virtually all its main components. The Rover 45 is also available as a performance variant, called the MG ZS. The Rover/ MG variant was still produced until Rover went into administration in 2005. In Japan, the Domani was also rebadged as the Isuzu Gemini.

An Acura version of the Domani was also built in Canada for the Canadian market, called the Acura 1.6 EL. This car was also exported back to Japan and Taiwan, but with the Domani badging. They are the same car in the way that the Acura RL is the Honda Legend outside of North America.



» Read More About Honda Domani