id:a1242559842b2698488
Honda Specs The removable flip-up rear seats let you configure the Element to fit most road-trip essentials, including your favorite taco sauce. And you can expect quick, simple loading of bikes, boards and more with the clamshell tailgate and side cargo doors.
2004 Honda Element
Photo #1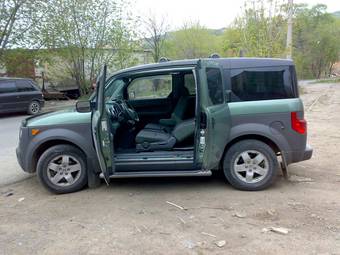 Photo Information (Width: 340px, Height: 255px, Size: 17Kb)
| | |
| --- | --- |
| Engine size - Displacement - Engine capacity: | 2400 cm3 |
| Transmission Gearbox - Number of speeds: | Automatic |
| Fuel Type: | Gasoline |
| Price (out of date): | $19000 |
2004 Honda Element specs, Engine size 2.4, Fuel type Gasoline, Transmission Gearbox Automatic
The Honda Element is a compact crossover SUV based on a modified CR-V platform, manufactured in East Liberty, Ohio and marketed in the United States since 2003.

The Element followed a concept vehicle called Model X, introduced in 2001. The Model X functionality was conceived with a cross-country road trip in mind, combining some features of a pickup truck and a sport utility vehicle. The Model X was first conceived by a core group of young R&D engineers in 1998.[citation needed] They wanted to develop a vehicle that they could use for their activities and conducted informal on-site focus groups at colleges, beaches, campsites and in the mountains.[citation needed]
Used Honda Element
The 4-seat Element is optimized to carry large loads. The floor is made of textured urethane that is easy to clean; the fabric is tough and stain-resistant; the individual rear seats recline, fold up, and are removable. The rear clamshell tailgate arrangement is large and the vehicle is tall, allowing large loads.

The rear side doors are not suicide doors, despite that they open backwards; Honda refers to the rear doors as rear access panels. The design forgoes B-pillars to create unobstructed access for side loading. In return, the chassis features reinforced joints, strengthened lower side sills, larger cross members, enlarged rocker panels, and five bulkheads per side.

Powering the Element is Honda's 2.4Liter K Engine, an i-VTEC four-cylinder engine producing 166hp (124kW) at 5500rpm and 160ft·lbf (217N·m) of torque at 4500rpm.

The Element is available with front-wheel drive or Honda's optional "Real Time" four-wheel drive system — a hydraulically-actuated system that operates only when front wheel slippage occurs. Four wheel drive was discontinued in Japan with the 2006 model.



» Read More About Honda Element