id:1333866
1989 Nissan Atlas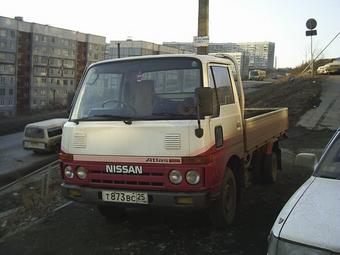 Photo Information (Width: 340px, Height: 255px, Size: 14Kb)
| | |
| --- | --- |
| Transmission Gearbox - Number of speeds: | Manual |
| Fuel Type: | Diesel |
| Drive wheels - Traction - Drivetrain: | FR or RR |
| Price (out of date): | $2200 |
1989 Nissan Atlas specs, Fuel type Diesel, Drive wheels FR or RR, Transmission Gearbox Manual
| | |
| --- | --- |
| | The Nissan Atlas (kana:日産・アトラス) is a line of pickup truck and light-duty commercial vehicle by Nissan and UD. The range was primarily available in Japan and some other Asian countries, although it was also sold in the United States during the late 1980s and up current. Manufacturing began in 1981 at Commercial and 1982 at RV with the first cars going to Asia. Other European and American countries which saw import or manufactures of the Atlas included the Europe, Mid-east and North America. The Asia-Pacific was another market until the early 1980s. In many markets the Atlas was very expensive and was replaced by the Nissan and UD Truck when that model became available for worldwide market in the early 1980s. |
Used Nissan Atlas
Australia was another important market for the Atlas - to the extent that it was manufactured there from the 1980s using many local components.
Most models of the truck are distinguishable by a front 'Atlas' badge, but the common Nissan or UD badge is usually used on the rear.
In United States, its principal competitors are Bering MS, Mitsubishi Fuso FE, Chevrolet W-Series, GMC W-Series and the Isuzu N-Series. and Japan competitors are Mitsubishi Fuso Canter, Isuzu Elf, Toyota Dyna, Hino Dutro.
Japan
Atlas 100
Atlas 10 (RV & Pickup truck)
Atlas F24
Atlas 200/ 300
Atlas 20 (Commercial)
Atlas 20 Hybrid
US & Canada
UD 1100
UD 1200
UD 1300
UD 1300 TURBO
UD 1400
UD 1800
UD 1800 CS


» Read More About Nissan Atlas