id:a1151483402b982898
2000 Nissan Presage
Photo #1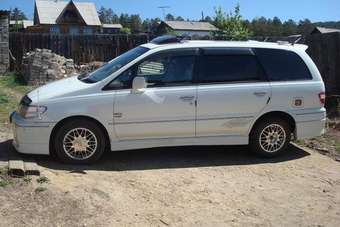 Photo Information (Width: 340px, Height: 227px, Size: 13Kb)
More photos of
Nissan Presage
Presage Troubleshooting
Engine light.
2006, Bought a Nissan Presage 2006 model about
3 days ago from a dealership in Auckland, every...
Rev
2005, Whenever I accelerate past 2000 revs it
starts to splatter and the arrow jumps up and
do...
Nissan presage
2004, starts up runs sounds like its missing
jerks on takeoff.get to 30 to 40km runs sweet
but...
2000 Nissan Presage specs: mpg, towing capacity, size, photos
"Presage" redirects here. For the concept in divination, see Omen.

The Nissan Presage is a large MPV produced by Japanese automaker Nissan since 1998. The Presage is only officially sold by Nissan in Hong Kong, Singapore, Brunei and Japan.
Used Nissan Presage
The first generation Presage was launched by Nissan in June 1998 as a competitor to the Honda Odyssey. It was available with either seven or nine seats. The biggest share of components was taken from the Nissan R'nessa, although it also has elements in common with the Nissan Bassara.

Engines include a 3.0-litre V6 VQ and a 2.4-litre four-cylinder KA gasoline engine, and a 2.5-litre four-cylinder YD turbodiesel engine. The YD turbodiesel & 2.4-litre KA were discontinued in August 2001 and replaced by a 2.5-litre four-cylinder QR gasoline engine.

All rear seats can be folded, although only those in the second row can be removed. After the restyling in 2001, the Presage got a new trim level called Highway Star.

The 2WD models feature the new Electronic Braking Force Distribution (EBD) system that uses electronic control to optimally distribute braking force to the front and rear wheels according to changes in the payload (number of passengers) being carried. This system works in tandem with the Braking Assist system (a brake booster with a two-stage mechanical assist mechanism plus ABS) to achieve synergies between effective utilization of front and rear braking force (EBD) and reduced pedal pressure (Braking Assist). As a result, more powerful braking performance is obtained with less pedal pressure in emergency braking situations even when carrying a large payload. The 4WD models also provide the nearly same high level of braking performance by adopting a load sensing valve (LSV) as a mechanical braking force distribution system in a set with the Braking Assist system.



» Read More About Nissan Presage