id:a1237794609b2565218
Porsche''s first ever, Sport Utility Vehicle.
2008 Porsche Cayenne
Photo #1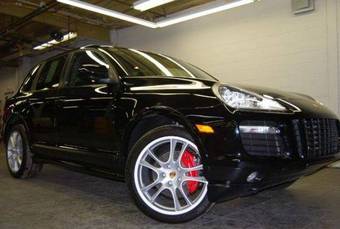 Photo Information (Width: 340px, Height: 229px, Size: 13Kb)
More photos of
Porsche Cayenne
Cayenne Troubleshooting
Side bars
2003, can anybody tell me how to fit wimbo side
bars to my car does the plastic trim under the...
| | |
| --- | --- |
| Engine size - Displacement - Engine capacity: | 4800 cm3 |
| Transmission Gearbox - Number of speeds: | Manual |
| Fuel Type: | Gasoline |
| Price (out of date): | $116300 |
2008 Porsche Cayenne specs, Engine size 4800cm3, Fuel type Gasoline, Transmission Gearbox Manual
| | |
| --- | --- |
| | The Porsche Cayenne is a five-seat mid-size luxury sport utility vehicle manufactured by the German automaker Porsche since 2002, with North American sales beginning in 2003. It is the first V8 engined vehicle built by Porsche since 1995, when the Porsche 928 was discontinued. |
Used Porsche Cayenne
Porsche intended the Cayenne to be the new benchmark for SUVs[citation needed]. The Cayenne's frame and doors are sourced from Volkswagen, who uses the frames and doors for the Volkswagen Touareg model. All other aspects of vehicle design, tuning, production are done in house at Porsche.
The Cayenne's appearance was criticized on the BBC TV series Top Gear. The presenters concluded that whilst the car was well engineered and was a capable off-roader, it was an extremely ugly vehicle.
All 2008 engines feature direct injection. The charge-cooling effect of direct fuel injection permits a higher compression ratio without the risk of detonation, improving horsepower and torque. There are currently 6 engines available in the Cayenne:
3.0L 240PS V6 Turbo Diesel from Volkswagen
3.6L 290PS (273ft·lbf) VR6 from Volkswagen (Based on the unit offered in the VW & Audi but with modifications made to the intake, exhaust, timing systems and head)
4.8L 385hp (283kW) 369ft·lbf (500N·m) V8 (S)
4.8L 405hp (298kW) 369ft·lbf (500N·m) V8 (GTS)
4.8L 500hp (368kW) 516ft·lbf (700N·m) twin-turbocharged V8 (Turbo)
4.8L 550hp (404kW) 553ft·lbf (750N·m) twin-turbocharged V8 (Turbo S)


» Read More About Porsche Cayenne